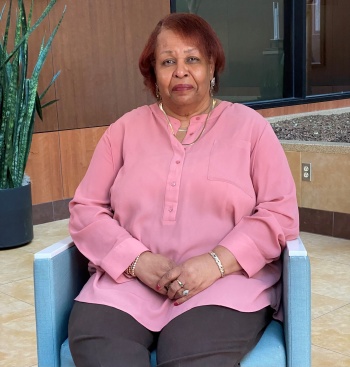 Brenda Lytle began career at VUMC at the tender age of 18 in dietary services – more than 50 years ago. "A lady I used to live next door to told me that Vanderbilt was hiring and that she could get me a job. I got an interview and was hired and I've been here ever since," she said.
Lytle started work in dietary as a part-time employee in 1971.  After returning from maternity leave with her son, she was asked to become a full-time employee.  She worked in dietary for 21 years in various units including Psych and Neuro.  
In 1992, Lytle was faced with the challenges of caring for aging parents and decided to become a care partner so that she could learn how to better care for them. As a care partner, she worked in pediatrics among other units.  In 1998, she became the medical receptionist for the newly created Trauma unit, where she continues her service today, talking to patients' families and answering their questions.
"I see a lot and do a lot. That's what has kept me at Vanderbilt so long -- I like what I do," she said.
Coworkers often comment that she has a wonderful sense of humor, and she welcomes new staff and makes them feel welcome.
"Miss Brenda is a dedicated employee. She is always laughing and making others smile. She is also an excellent resource for our charge nurses," said Christopher Schock, BSN, RN, Clinical Staff Leader in the Division of Acute Care Surgery. "She has dedicated so many years to a unit that it full of some real characters -- patients, their families as well as the staff.  Through it all, she keeps on smiling and making people feel appreciated and welcome." 
Lytle says one of the main changes she's seen in her 50-plus years is all the physical growth at the medical center. "When I came here, the hospital was just the Round Wing, and that's where I worked. Then they built the new hospital, and I moved over there to work," she said. 
After she retires from VUMC, Lytle says she looks forward to spending more time with her three children and grandchildren, having lunch with friends and her favorite pastime – shopping.